WINTER SNOW CLEARING WITHOUT THE WORRY!
At Sand Creek Services, our fleet of tractor snowblowers is unlike traditional truck snow plows allowing us to deliver an unmatched driveway clearing experience. We leave behind no piles of snow to block your vision, and your driveway and lawn won't need repair in the spring. No matter how bad the winter is, for one low payment, your driveway will be cleared on time, the first time. We continue snowblowing operations throughout every storm to make sure that for you, it's like the storm never happened.
Unpredictable winters are a fact of life in Minnesota. Your driveway must be kept clear so that you can get to work on time, the kids can get out safely to school, and on the weekends, you don't spend valuable family time chipping away at the snowpack on your driveway. Are you frustrated by your current snow removal service? Do you know when your plow guy is going to show up and does his service help you get to work on time? Are snowy winters ruining your budget because your service charges per visit and there is no way to know how many visits in a season? Do you sacrifice service (4″ trigger or higher) to save your budget? Do you get charged for the plow guy to come back and clean up the snow-bank? Is fighting your own snowblower in the cold getting painful and frustrating? Could you be doing something better with your time rather than snowblowing or shoveling the driveway? Our snowblowing service has no equal and can solve your snow removal woes. Let your snowy driveway be our number one concern and rely on us bring enjoyment instead of dread to your winter days. Learn more here or check out our FAQ for more information.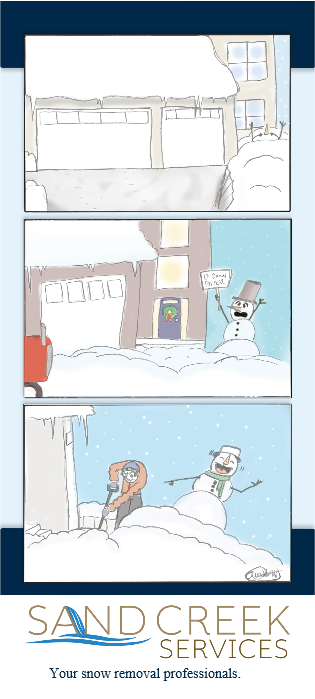 Sand Creek Services Proudly Serves the Following Areas
Please Enter Your Zip Code
**Sand Creek Services offers Snow Removal to homes located within the blue zones.